Details
Details

Category: Help
Published on Monday, 31 December 2012 11:24
Written by Super User
Hits: 4984
ProGFX supports advance function to draw text on graphical LCD screen. ProGFX support multiple fonts, fonts with variable width characters, absolute pixel based positioning, and utility function to get the dimension of text in any specified font. The last feature is used to cleanly position text relative to other graphic and text objects on screen. So lets get started.
First you will need a tool that will help convert any Windows Font to ProGFX compatible format. Thanks to Mr. F. Maximilian Thiele we have a great tool called Font Creator. You can download it from here.
It is a Java application so you need the Java Runtime to use it. Launch the app using start.bat file. You will get a screen similar to this.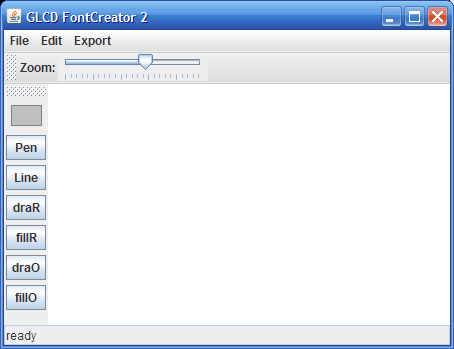 Font Creator Main Screen
From file menu select "New Font" , and configure the New Font Dialog as follows.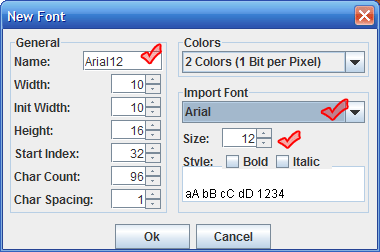 New Font Dialog
Name = Arial12
Import Font = Arial
Size =12
And click ok.
From Export Menu Select "Export Font", Give it the name "Arial12.h" while saving.
Create a AVR Studio Project(avr-gcc type) with GFX Support. The steps are given in the following tutorials.
Name the AVR Studio Project as "FontDemo". Open the project folder in Windows Explorer (or My Computer) and create a new folder inside it called "fonts". This folder will hold all fonts used by our project. Copy the font that you have just created (Arial12.h) to this folder. The following example program illustrate the use of custom fonts.



1

     /******************************************************************************


2




3

     ProGFX Example Programs


4

     ***********************


5




6

        Example to demonstrate the use of custom fonts.


7




8

     Website:


9

        http://www.ProGFX.org


10




11

    Hardware:


12

       AVR ATmega32 @ 16MHz


13

       Fuse High = 0xC9 Low=0xFF


14




15

    Compiler:


16

       avr-gcc


17

       http://winavr.sourceforge.net/


18




19

    Project Manager:


20

       AVR Studio 4.17 Build 666


21




22




23




24

    Copyright:


25

       (C) 2008-2011 eXtreme Electronics


26

       www.eXtremeElectronics.co.in


27




28

    Author:


29

       Avinash Gupta


30

       
 This email address is being protected from spambots. You need JavaScript enabled to view it.
 


31

       http://www.avinashgupta.com


32




33

    ******************************************************************************/


34




35

    

#include <gfx.h>




36

    

#include <font.h>




37




38

    //Our newly created Arial12 Font


39

    

#include "fonts/Arial12.h"




40




41

    void main()


42

    {


43

       //Initialize the ProGFX Engine


44

       GFXInit();


45




46

       //Select a Font


47

       GFXSetFont(Arial12);


48




49

       //Write Some Text to the screen


50

       GFXWriteStringXY(

1

,

1

,

"This is Arial12 Font !"

,GFX_COLOR_BLACK);


51




52

       //Now Write the buffer to actual screen


53

       GFXUpdate();


54




55

       //Wait Forever


56

       while(

1

);


57




58

    }


Copy/Paste the above program in FontDemo.c file. Build and run the program. You will get a screen similar to this.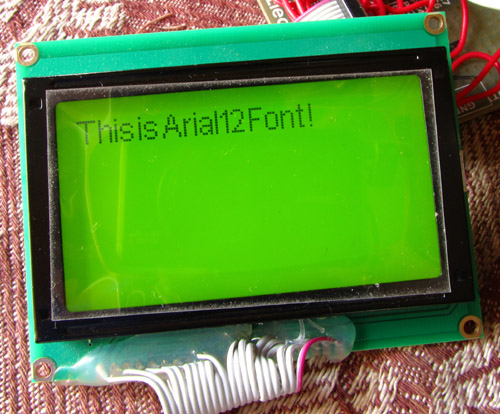 GLCD Font Demo
Before you can use any custom font you need to include it in your main program. It is done in line 39 of above program.
#include "fonts/Arial12.h"
Then in line 47 we select this font as an active font. This is done by using the Function
GFXSetFont();
The parameter is the name of the font. In our case while creating the font we used the name "Arial12" so we call as
GFXSetFont(Arial12);
This sets Arial12 as active font and all the drawing will be done using this font.
We write some text to the screen using a call to
GFXWriteStringXY(1,1,"This is Arial12 Font !",GFX_COLOR_BLACK);
The first parameter is the x co-ordinate of the text, second is y, third is the text to draw, the fourth is the color in which to draw.
Using Multiple Fonts
You can use many different fonts in the same program. Create two more fonts using the Font Creator as described above. You can select any font you like. In this example I will create two more fonts with the following style.
Font Name: Comic24

Windows Font name = Comic Sans MS

Size 24

Bold = Yes

Font Name Times18

Windows Font Name = Times New Roman
Size 18
Italic = Yes
Create a new project named "MultiFont" using AVR Studio with ProgGFX support. Inside the project folder create a new folder called "fonts". Put all three fonts created inside it. In the "MultiFont.c" file copy/paste the following code.



1

     /******************************************************************************


2




3

     ProGFX Example Programs


4

     ***********************


5




6

        Example to demonstrate the use of multiple custom fonts. Draws some text


7

        using three different fonts.


8




9

     Website:


10

       http://www.ProGFX.org


11




12

    Hardware:


13

       AVR ATmega32 @ 16MHz


14

       Fuse High = 0xC9 Low=0xFF


15




16

    Compiler:


17

       avr-gcc


18

       http://winavr.sourceforge.net/


19




20

    Project Manager:


21

       AVR Studio 4.17 Build 666


22




23




24




25

    Copyright:


26

       (C) 2008-2011 eXtreme Electronics


27

       www.eXtremeElectronics.co.in


28




29

    Author:


30

       Avinash Gupta


31

       
 This email address is being protected from spambots. You need JavaScript enabled to view it.
 


32

       http://www.avinashgupta.com


33




34

    ******************************************************************************/


35




36

    

#include <gfx.h>




37

    

#include <font.h>




38




39

    //Fonts


40

    

#include "fonts/Arial12.h"




41

    

#include "fonts/Comic24.h"




42

    

#include "fonts/Times18.h"




43




44

    void main()


45

    {


46

       uint8_t y=

1

;


47




48

       //Initialize the ProGFX Engine


49

       GFXInit();


50




51

       //Select a Font


52

       GFXSetFont(Arial12);


53




54

       //Write Some Text to the screen


55

       GFXWriteStringXY(

1

,y,

"This is Arial12 Font !"

,GFX_COLOR_BLACK);


56




57

       //Calculate new line co-ordinates


58

       y+=GFXGetCharHeight();


59

       y+=

2

;//go down two more pixel


60




61

       //Select a Font


62

       GFXSetFont(Comic24);


63




64

       //Write Some Text to the screen


65

       GFXWriteStringXY(

1

,y,

"Comic24 !"

,GFX_COLOR_BLACK);


66




67

       //Calculate new line co-ordinates


68

       y+=GFXGetCharHeight();


69

       y+=

2

;//go down two more pixel


70




71

       //Select a Font


72

       GFXSetFont(Times18);


73




74

       //Write Some Text to the screen


75

       GFXWriteStringXY(

1

,y,

"This is Times18 !"

,GFX_COLOR_BLACK);


76




77

       //Now Write the buffer to actual screen


78

       GFXUpdate();


79




80

       //Wait Forever


81

       while(

1

);


82




83

    }


Build and run the program. You will get output similar to this.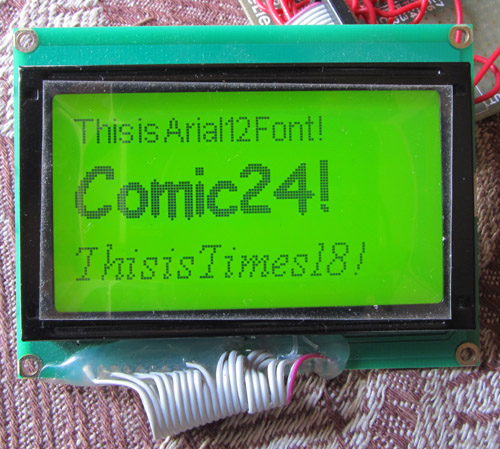 GLCD Multi Font Demo
Downloads
Fonts
Hex files ready to run on ATmega32
AVR Studio Projects