Details
Details

Category: Help
Published on Sunday, 30 December 2012 08:02
Written by Super User
Hits: 12242
Their are several type of graphical LCD module in the market. In this tutorial I will introduce you to a common graphical lcd module that is easily available in most part of the globe. If you are in India I request you to buy one of these from our online store, in this way you can help us.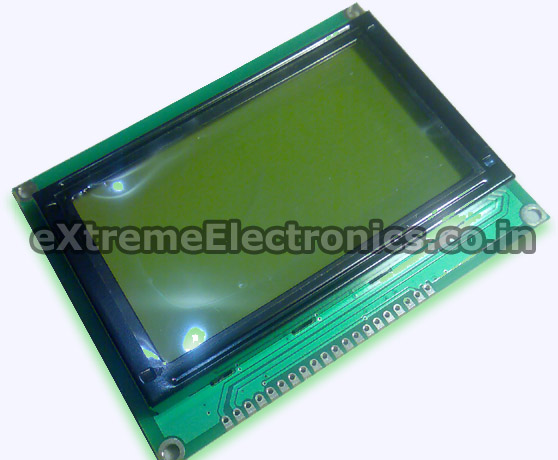 KS0108 based 128 x 64 Graphic LCD Module
The specification of this LCD are as follows.
128 horizontal pixel and 64 vertical pixel resolution.
Controlled based on KS0108B
Parallel 8bit interface
On board graphic memory.
Available in Green backlight with dark green pixels.
Also available in Blue backlight with light blue pixels.
LED backlight.
20 PIN linear connection.
PIN Description
| | | | |
| --- | --- | --- | --- |
| PIN | Name | Function | Connection with AVR PIN |
| 1 | Vss | Ground |   |
| 2 | Vcc | +5v Supply in |   |
| 3 | V0 | Contrast Adjust |   |
| 4 | RS | Instruction/Data Register Select | PD3 |
| 5 | R/W | READ/WRITE SELECTION | PD6 |
| 6 | E | ENABLE SIGNAL | PB4 |
| 7 | DB0 | DATA IN/OUT | PC0 |
| 8 | DB1 | DATA IN/OUT | PC1 |
| 9 | DB2 | DATA IN/OUT | PC2 |
| 10 | DB3 | DATA IN/OUT | PC3 |
| 11 | DB4 | DATA IN/OUT | PC4 |
| 12 | DB5 | DATA IN/OUT | PC5 |
| 13 | DB6 | DATA IN/OUT | PC6 |
| 14 | DB7 | DATA IN/OUT | PC7 |
| 15 | CS1 | Chip Select 1 | PB0 |
| 16 | CS2 | Chip Select 2 | PB1 |
| 17 | RST | RESET SIGNAL | RESET |
| 18 | VEE | NEGATIVE 10V OUT |   |
| 19 | LED+ | LED BACKLIGHT |   |
| 20 | LED- | LED BACKLIGHT |   |