Details
Details

Category: Help
Published on Monday, 31 December 2012 04:53
Written by Super User
Hits: 10415
I suggest you to make a small circuit with ATmega32, its life support environment and Graphic LCD to experiment with these LCD. I have clocked the Test circuit with 16MHz crystal for maximum speed. Make the circuit as follows.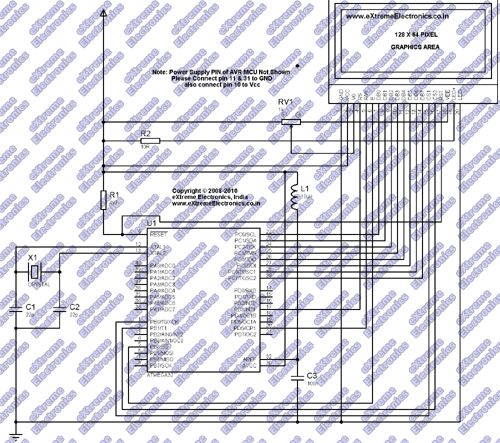 Schematic for AVR ATmega32 and Graphic LCD Connection.
The RV1 (which is a variable resistor of 10K) is used to adjust the contrast of the display.
If no display is visible on screen use this to adjust the contrast until you see everything clearly.
The AVR's Fuse bits must be set as follows to disable JTAG and enable external crystal.This step is very important and things won't work if you forget this.
HIGH Fuse = 0xC9
LOW Fuse = 0xFF
Graphic LCD Test Circuit Fabrication Tips.
I have used my Low Cost 40 PIN AVR Development Board for quick testing. I is a bare bone AVR board with AVR and its life support. The nice thing is that it has prototyping area surrounding the AVR. I used this area to mount the 20 PIN FRC Box header for connecting the GLCD.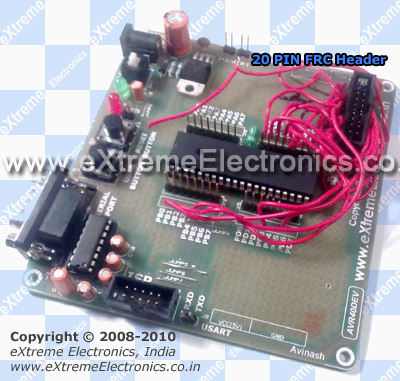 40 PIN AVR Devboard with Graphic LCD Connector.
In the above image you can see the 20 PIN FRC Box header is soldered. The red wires connect the PINS of header to the MCUs I/O lines. They also supply power to the module and its led backlight.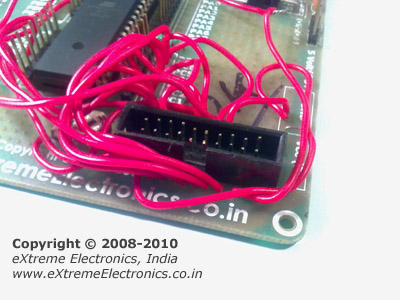 Graphic LCD Connector.
Take a 20 PIN FRC Cable. It has female connectors at both ends. Cut it to half and solder the wires to 20 PINs on the LCD Module. The image below illustrate the point. Now you can easily connect and disconnect the graphic lcd module from board.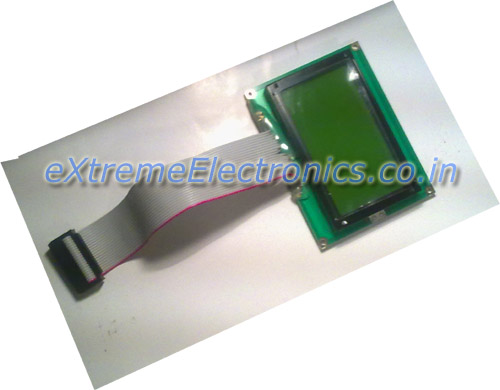 Graphic LCD with Wire Soldered.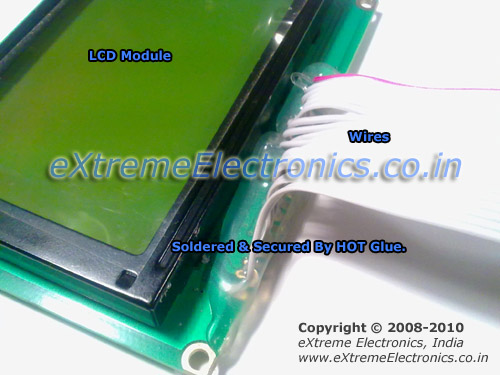 Graphic LCD with Wire Soldering.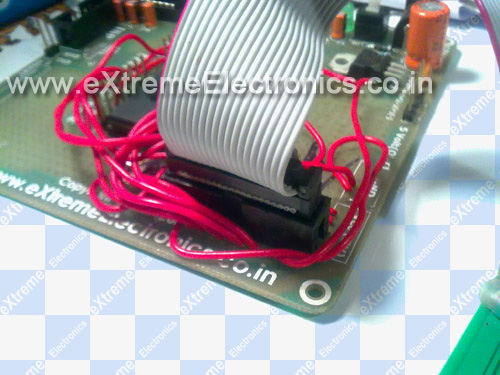 Graphic LCD Connected.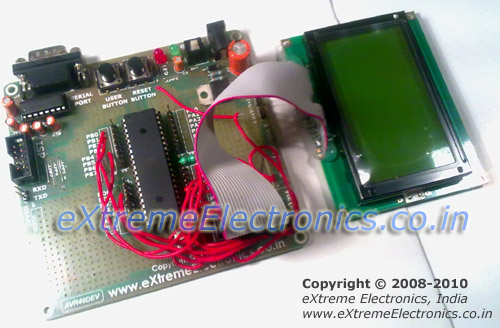 AVR Graphic LCD setup is ready!
In the next tutorial we will get our hands wet by writing the "Hello World" App for the Graphic LCD. I will show you how to create a AVR Studio Project with Graphic LCD Support by Adding and Configuring our Solid Graphic Library for AVRs.