Details
Details

Category: Help
Published on Monday, 31 December 2012 06:15
Written by Super User
Hits: 9582
This tutorial deals with downloading and installing ProGFX graphic engine. ProGFX is a free and easy to use embedded graphic library that can control several display modules and can run on AVR, PIC and ARM MCUs. In this tutorial we will make a ProGFX graphical application with Atmel AVR ATmega32 MCU using AVR Studio and WinAVR (C Compiler). So lets begin.
Downloading ProGFX engine.
Please download the ProGFX engine from the following link.
Installing ProGFX Engine.
You need WinZIP to extract the files to your hard disk. Please extract it to root of any drive like "C:". Following Folders will be created.
C:\ProGFX\include
C:\ProGFX\lib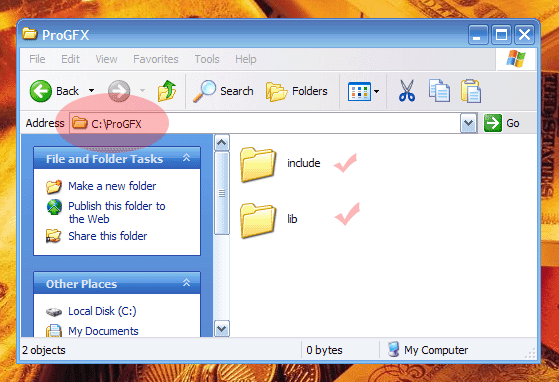 Folders Created after extracting the ProGFX package
Note that core of the engine is contained in two folders named "include" and "lib" but there may be some others folders too, like "Help" depending on your version of ProGFX engine.
Creating a Graphical Project using AVR Studio.
The basic tools required for developing with AVRs are
AVR Studio
avr-gcc (Precompiled Binary version for Windows is called WinAVR)
These tools must be installed and set up correctly as described in the following tutorial.
Start AVR Studio and you will be presented with the following screen.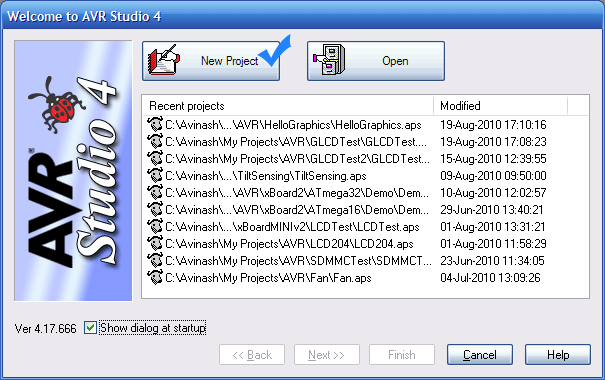 AVR Studio Welcome Screen
Select "New Project"
And on the next screen ...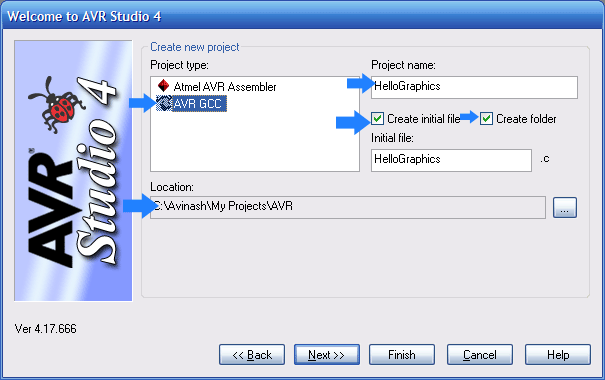 Configure the Project
Select the options as shown above.
Project Type is AVR GCC
Project Name is "HelloGraphics"
Select any appropriate location for the project in your hard disk.
Now select Debug Platform as AVR Simulator and Device as ATmega32 and click Finish.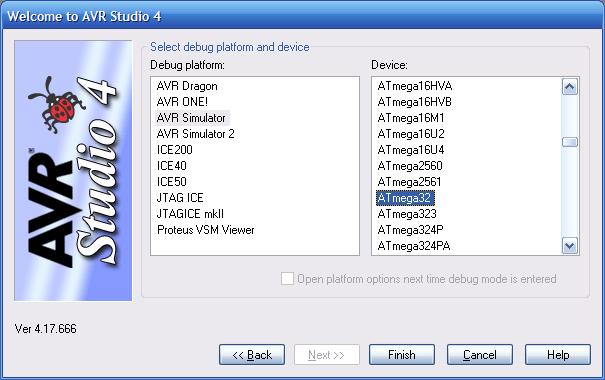 Device Selection
Now your project is ready. From the "Project" menu select "Configuration Options" you will be presented with the following screen.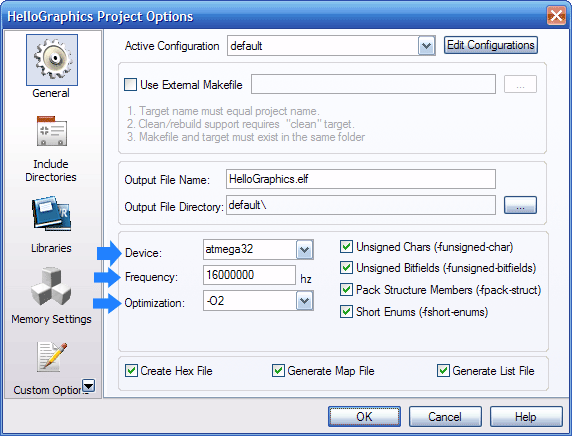 Configure the Project
Select Frequency as 16000000 (16MHz) and Optimization as "-O2". Then select "Include Directories" from the left hand pane. After that select add include directory. The button is shown in the image below.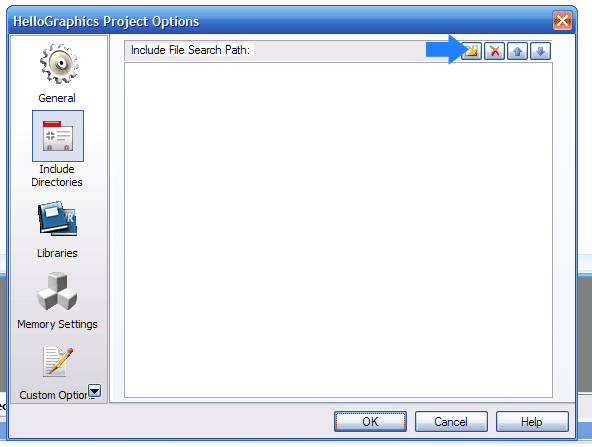 Add new include directory
Now select the "include" folder inside the ProGFX Folder.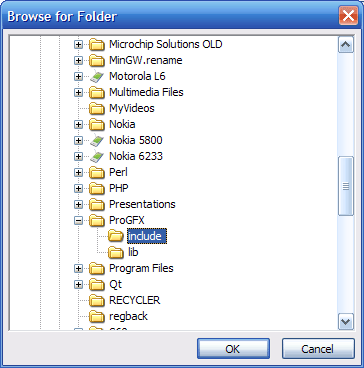 Adding New Include Folder
Now similarly we need to add the library to our project. So go to "Libraries" section.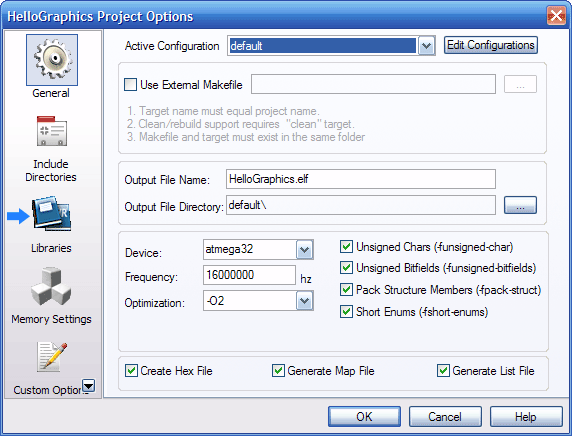 Library Section in Project Configuration.
In library section select "Add new library path". It is shown in the image below.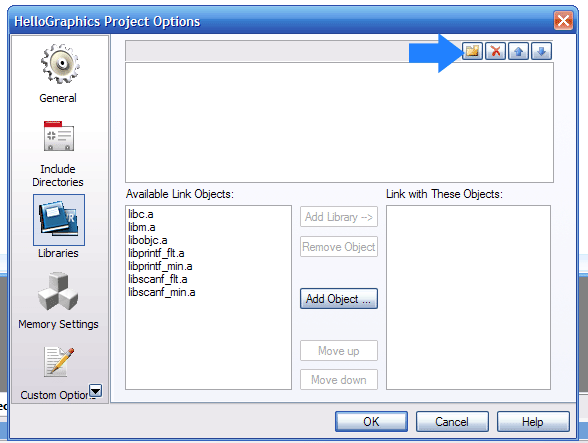 Configure the Project
Then select the "lib" folder inside the ProGFX installation.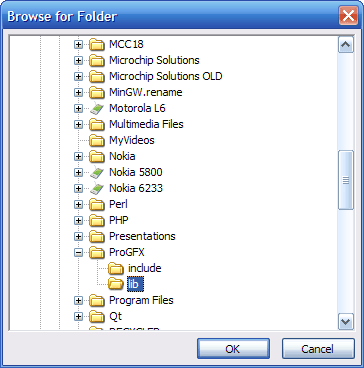 Adding New Library
Now the "Available Link Objects" section will show "libgfx.a". Select "libgfx.a" and click "Add Library" button. Now click OK.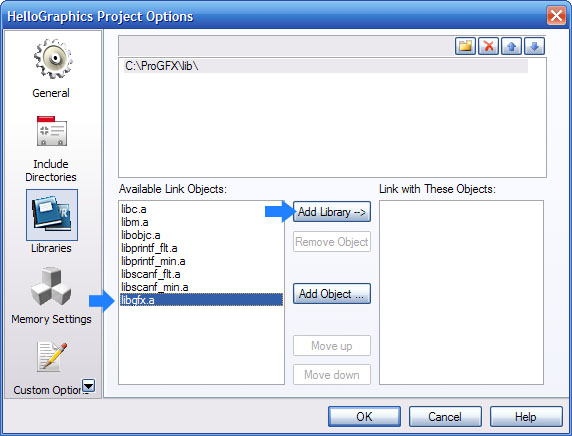 Adding ProGFX Library
Finally Your Project is ready!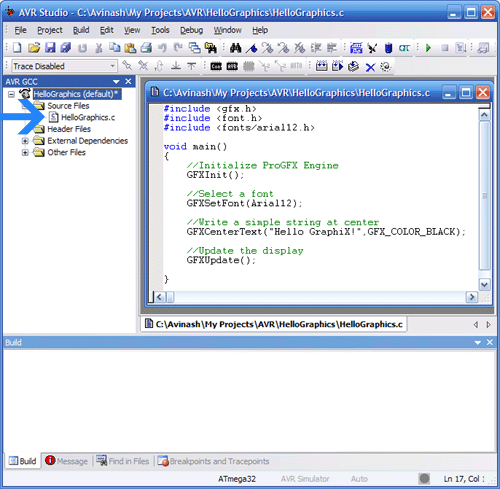 AVR Studio Ready For Graphical Application
Double Click On the "HelloGraphics.c" from the project file area on the LEFT hand side of AVR Studio. You will be presented with a blank file. Just copy/paste the code given below.

/********************************************************************

Hello World Project Using ProGFX Engine. The application just prints

the text "Hello GraphicX!" at the center of 128x64 Graphical LCD
Module.

For More Information See

http://www.ProGFX.org

ProGFX makes it easy to interface graphical LCD modules with
embedded microcontrollers. Currently Atmel AVR MCUs are supported.

Latter PIC and ARM MCUs will also be supported.

Development Environment : AVR Studio v4.17
Compiler : WinAVR 20090313

Written By
Avinash Gupta

 This email address is being protected from spambots. You need JavaScript enabled to view it.
 

********************************************************************/



#include <gfx.h>




#include <font.h>




#include <fonts/arial12.h>



void main()
{
   //Initialize ProGFX Engine
   GFXInit();

   //Select a font
   GFXSetFont(Arial12);

   //Write a simple string at center
   GFXCenterText(

"Hello GraphiX!"

,GFX_COLOR_BLACK);

   //Update the display
   GFXUpdate();

}


After entering code save the file. Then from the "Build" menu select "Rebuild All". If you did every steps carefully then the project will compile without any problem and you will be get a HEX file. The hex file is found inside the "default" folder inside your project folder. In this case the file should be "HelloGraphics.hex". You can program this hex file to the MCU using any standard ISP Programmer.
The hardware required to run this project is described in detail in the following tutorial.
After running the demo you will get an output similar similar to the images shown below.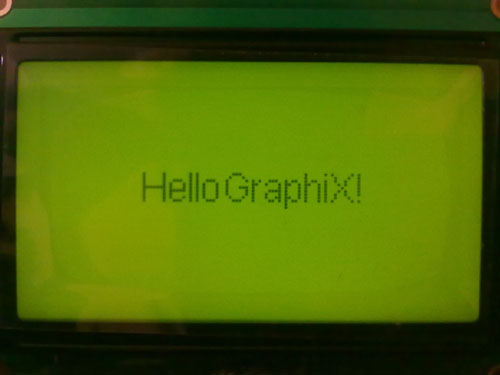 Atmel AVR Based Graphical LCD Demo
If you get NO output on the LCD Panel then :-
Adjust the RV1 variable resister until you get proper display.
Confirm that HIGH fuse is programmed to C9 (HEX) and LOW fuse is programmed to FF (HEX)
Check all connections.
Check that 16MHz crystal is connected to AVR MCU
Build Circuit exactly as shown in "Interfacing Graphical LCDs with AVR Microcontrollers."
About: ProGFX is a free project started by eXtreme Electronics India to promote use of graphical modules in new embedded projects. The development of ProGFX project requires money and LOTs of time. So please buy Graphical LCD Modules from our online store to help us in return. Currently these modules are only supplied within India.
Downloads